Carers Award
Kate Smith presents Wendy with the Carers Award
Wendy Grimes  of Omagh
Wendy cares for her husband, son and three daughters all of who have a number of serious debilitating conditions. Although she is under extreme pressure at all times she tries not to show it and manages it all with a smile twenty four hours a day to the best of her ability. As well as tending to the families everyday needs she co-ordinates hospital appointments, makes sure medication is taken at the correct time and administers professional-type care. Her selflessness, determination and love shines through in everything she does.
Special Certificate of Merit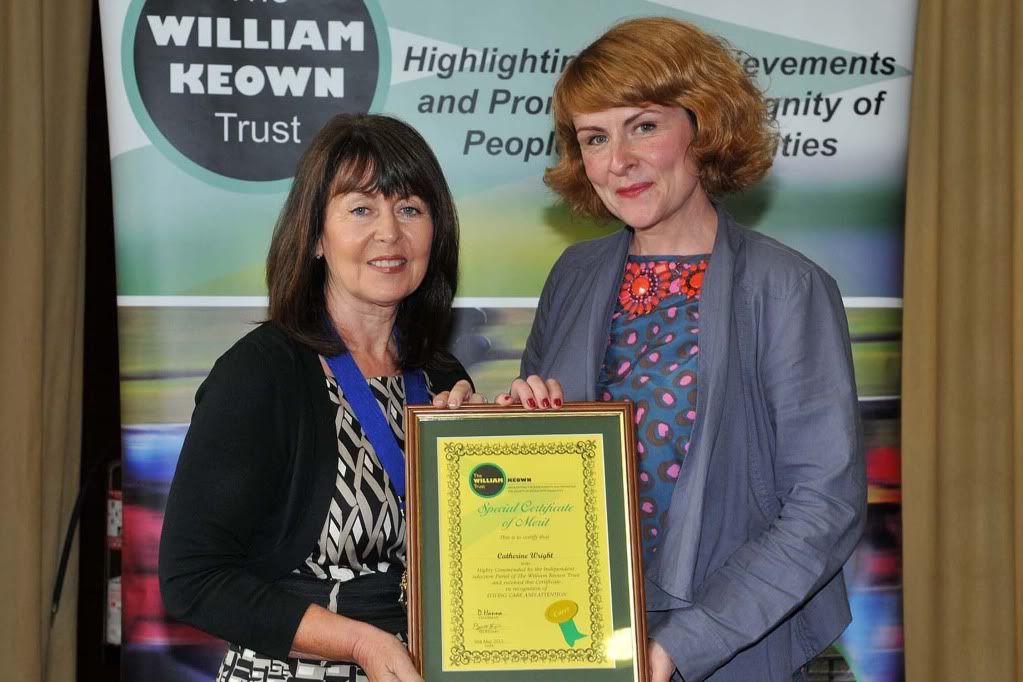 Kate Smith presents Catherine with her Special Carers Certificate
Catherine Wright of Belfast
Catherine who was diagnosed with arthritis in childhood has spent the last sixteen years as a support worker for Young Arthritis Care providing support to children, young people and their families. She is very proactive in both anticipating and meeting the needs of her client group and is greatly valued as their advocate, advisor and "fixer" of problems. Catherine's role in supporting the parents of newly diagnosed children is of special merit. It is very rewarding to witness the development of teenagers and young people who have learned to cope with their illness and at times complex treatment with support facilitated by Catherine's programme of workshops and activities. Catherine has a cheerful outgoing disposition and demonstrates a genuine interest and compassion. Catherine's role is particularly relevant at this time as sadly the services for children and young people with arthritis have a low priority in the allocation of resources. Thankfully this deficit is partly met with the good will, charity and commitment of individuals such as Catherine.
Certificate of Merit
Martha Blemings of Armagh
Michelle Cowan of Glengormley
Ciaran Denvir of Carnlough